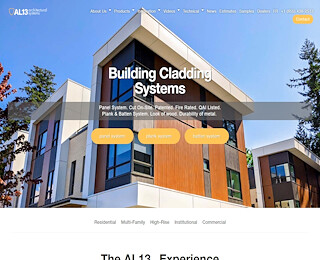 Have you heard about the new ACP panel on the market? AL13 has changed construction for good. Their
wood siding
panel system is cut to fit and snaps together on site, reducing costs, installation and lead times. The system does not require prefabrication and can be installed on any type of structure. This is a game changer.
What's so new is that the AL13 offers a new tab-over system. The wood siding panels are secured by the snap-lock fasteners. Panels are not welded or formed during construction. This allows for each panel to expand and contract across a broad temperature spectrum without causing buckling or oil-canning. The new tab-over design is unique to AL13, consisting of five different wood extruded profiles. The panel spacers and extrusions work together to create a pressure equalized rain screen system, allowing any moisture to exit.
If you like to keep your options open, you're going to like the flexibility that the AL13 affords you. Installation is simple and allows the configuration to be tailored on site. No more waiting for prefabricated wood siding panels to be delivered! AL13 specializes in wood siding in commercial projects of all shapes and sizes. The AL13 system is cut to fit on site, providing the cost-efficiency that builders are looking for in a product.
Let's take a closer look at how the spectrum process works and what it means for your next project:
1. Simply send AL13 a physical sample or color code. They guarantee they're going to be able to match it for you.
2. The Spectrum Process combined with your sample will allow AL13 to acquire the perfect match for your project.
3. AL13 will send your color match on a wood sample for your approval. No off site fabrication. Installation is simple and allows the configuration to be tailored on site. You'll never have to wait for a wood siding panel again. Time saved is money saved on the job site.
AL13 understands the importance of your brand image and colors. AL13 works with large corporate accounts across North America to ensure that their brands are honored. Yet, if you thought the AL13 was only for commercial projects- take another look! With its clean architectural lines and easy to install system, AL13 is the ideal solution for your next residential or multi-family project.
Available in a wide variety of Standard Finishes: AL13 is available in a wide range of standard colors and finishes which are in stock should quick orders be necessary. To see their entire list of finishes, please go to AL13.com.
AL13's unique Spectrum Process: AL13's Spectrum Process, you can now design with any color. Whether you have a color code or a physical sample, their Spectrum Process will ensure your project comes out the way you imagined. View the process for yourself by visiting AL13.com.
Wood Line: AL13 Woodline is available in 10 different wood-grain finishes. The wood siding panels have the look and warmth of real wood while retaining the benefits of an ACM system. You can view samples of black walnut, Brazilian teal, Swiss pear and dark oak from their Web site at AL13.com.
AL13 provides the tools that make it easy for their customers to find all the information they need with the click of a mouse. AL13 Wiki allows you to easily find answers to all of the questions you may have about the product. From General System information to the cleaning and maintenance of the wood siding panels, you can find everything you want to from al13.ca/wiki/page/main_page. AL13TV will show you th right way to install the wood siding panels. AL13TV is comprised of a series of instructional videos to assist you in the installation of the product. Videos include:
- General Install
- Pre-installation
- Doors & Windows
- Soffit Install
There's no way around it- we know you're going to love the flexibility that the AL13 offers. AL13 provides limitless install possibilities. When choosing a wood siding panel there are a lot of options out there, but not all of them provide the same value. AL13's tab-over system provides the flexibility for its installation on any type of structure, including woodframe, concrete exteriors, drywall, Z Girt, brick or block.
Have a few minutes? Take the tour of the AL13 process by visiting online at AL13.com. You can also call the company at 1-855-438-2513 if you have any questions.