Wood Style. Metal Strength.

Get the look of wood, with the durability of metal.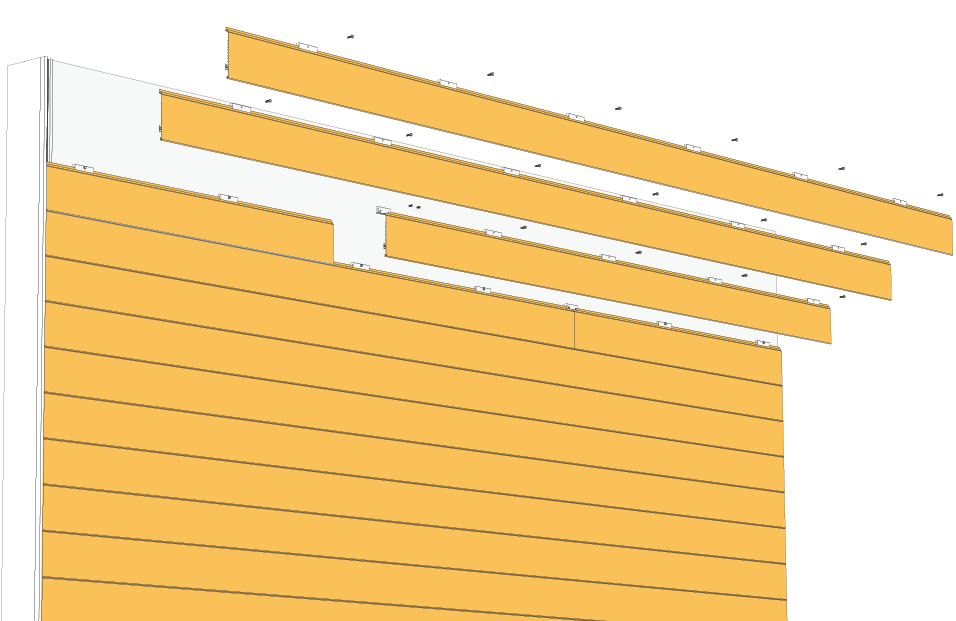 We went back to the drawing board – we started with a blank sheet of paper with the goal of addressing 3 key features that other lookalikes have missed.
Improved Moisture Management
New profile behind the plank to increase rain screen functionality
Better Material Optimization
Improved strength to weight ratio
Timeless Look
Precision Install
Classic profile design that allows for increased installation precision within 0.5mm (20 thou) for reduced risk of compression resulting from material expansion and contraction across the width of the plank.
6 popular woodgrains, a variety of standard colors.
Rainscreen, fire-rated, & wind-load tested. AAMA, NFPA, ASTM, ULC.
Less cost per square ft to install. Submit more competitive bids.
Looking for colors & finishes? Let's explore the colors & finishes for your project needs.
Installation walkthrough & product overview.
Live demos provided by request.
3 plank options
9 frame components
Unlimited possibilities
6P 6″ Plank
4P 4″ Plank
2PV 2″ Perforated Plank
EF-12 End Frame
IC-12 Inside Corner
OC-12 Outside Corner
FC-8Flat Cap
FCP-8 Flat Cap: Perimeter
RC-8 Reveal Cap
RCP-8 Reveal Cap: Perimeter
BP-8 Back Plate
BPH-8 Back Plate: Half
format.pdf
updated: 06/16/2020
files: 1
Cleaning & Maintenance Guide
format.pdf
updated: 11/22/19
files: 1
format.pdf
updated: 05/26/19
files: 2
format.zip
updated: 05/26/19
files: 1
format.pdf
updated: 08/08/19
files: 1
format.pdf
updated: 08/02/19
files: 1
form
updated: 03/11/21
files: 1
form
updated: 03/11/21
files: 1
format.pdf
updated: 10/26/19
files: 1
format.pdf
updated: 10/26/19
files: 1
Spec Sheet (MasterSpec US)
format: .docx
updated: 10/26/19
files: 1
format: .docx
updated: 10/30/19
files: 1
Spec Sheet (MasterSpec CAN)
format: .docx
updated: 10/30/19
files: 1
format: .docx
updated: 10/26/19
files: 1
format: .docx
updated: 01/03/20
files: 1
format: .docx
updated: 01/03/20
files: 1
Let's explore the colours & finishes for your project needs
Let us craft a free material takeoff + estimate for your project