Aluminum Composite. Cut On Site. Patented.

No additional off-site fabrication required. Panels are cut to fit on-site and secured using a patented process, saving time and money.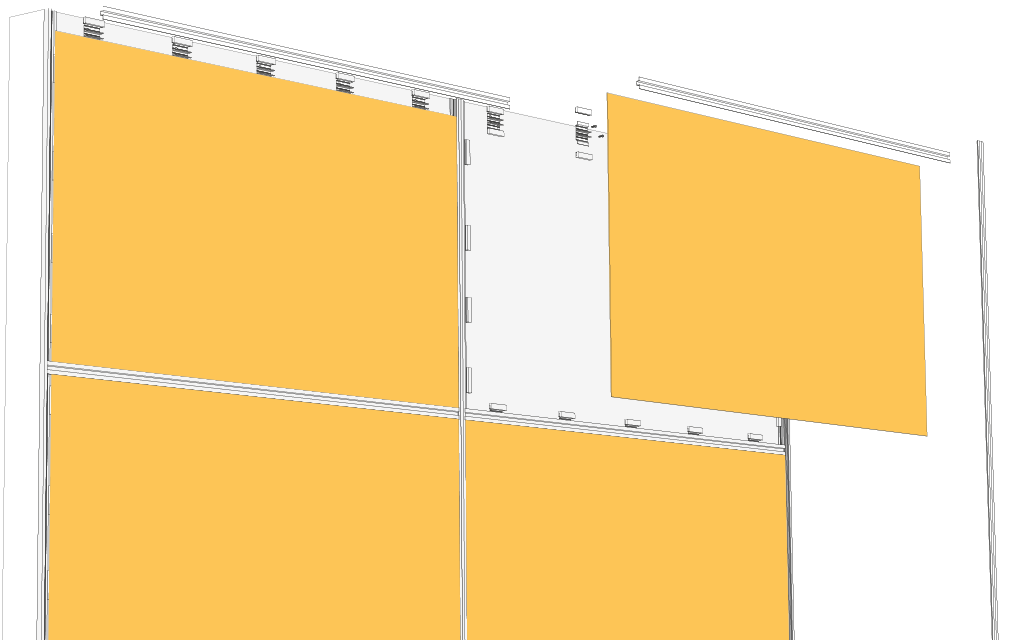 No proprietary off-site manufacturing. Better project management. 
Instead of waiting for pre-fabricated parts, AL13® Panels are cut-to-fit on site. The system is secured using system frame components, allowing for on-the-fly changes. 
Achieve a premium look without the financial constraints of route and return.
Architects choose AL13® when it comes to competitive bids on large projects, including institutional schools, multi-families, high rises, and national brand transformations. 
Cut-to-fit on site for flexibility.
Half the weight of fiber cement.
If mistakes happen on-site, replacing pre-fab panels requires replacing the entire surrounding install, in addition to order wait time.
With AL13®, you can replace individual panels, not the entire pre-fab. 
ULC-S134. ASTM E330. AAMA 508.
NFPA 285. CAN/ULC-S102. ASTM E84.
AL13® Panels are available in standard polyethylene (PE) or Class A2 fire rated (FR) core – the highest quality fire resistant panels. System components have built-in moisture management (pressure equalized rain screen). 
9 solids, 4 metallics, 5 woodgrain. Unlimited possibilities.
Get inspiration from our project gallery.
Standardized wind, water and fire safety tests. AAMA, NFPA, ASTM, ULC. QAI.
Spec sheets, data sheets, color guide, install guides for woodframe, z-girt, concrete, & more.
Looking for color samples?
Let's send you what you need.
Installation walkthrough & product overview.
Live demos provided by request.
2 panel thickness options
10 frame components
Unlimited possibilities
3PE 3mm PE Core ACM
4PE 4mm PE Core ACM
3FR 3mm FR Core ACM
4FR 4mm FR Core ACM
IB I-Beam
EF-8 End Frame
IC-8 Inside Corner
OC-8 Outside Corner
FC-8Flat Cap
FCP-8 Flat Cap: Perimeter
RC-8 Reveal Cap
RCP-8 Reveal Cap: Perimeter
BP-8 Back Plate
BPH-8 Back Plate: Half
format.pdf
updated: 06/16/2020
files: 1
Cleaning & Maintenance Guide
format.pdf
updated: 11/22/19
files: 1
Safety Data Sheet (PE Core US)
format.docx
updated: 01/03/20
files: 1
Safety Data Sheet (FR Core US)
format.docx
updated: 01/03/20
files: 1
Safety Data Sheet (PE Core CAN)
format.docx
updated: 01/03/20
files: 1
Safety Data Sheet (FR Core CAN)
format.docx
updated: 01/03/20
files: 1
format.pdf
updated: 10/26/19
files: 1
format.pdf
updated: 10/26/19
files: 1
Spec Sheet (MasterSpec US)
format: .docx
updated: 10/26/19
files: 1
format: .docx
updated: 10/30/19
files: 1
Spec Sheet (MasterSpec CAN)
format: .docx
updated: 10/30/19
files: 1
format: .docx
updated: 10/26/19
files: 1
format.pdf
updated: 08/08/19
files: 1
format.pdf
updated: 08/02/19
files: 1
form
updated: 03/11/21
files: 1
form
updated: 03/11/21
files: 1
format.pdf
updated: 05/26/19
files: 2
format.zip
updated: 05/26/19
files: 1
format.pdf
updated: 07/22/19
files: 1
Let's explore the colours & finishes for your project needs
Let us craft a free material takeoff + estimate for your project